Certn Credence, a global leader in International background screening, has announced that we have integrated our comprehensive check technology platform with the award-winning Talos Applicant Tracking System (ATS) to help businesses streamline their employment checks and reduce their hiring risk. 
Certn Credence trusted pre- employment checks, help protect businesses and ensure employers remain compliant during hiring.
Our integration with the Talos ATS allows hiring managers and HR professionals to set up and run 20+ types of background checks, including criminal record checks, Standard and Enhanced DBS checks, employment verification and much more.
The Talos ATS integration with our secure screening platform allows employers to:
Streamline background checks with a unified platform for HR professionals to request and view various checks
Save time and reduce administrative costs associated with multiple logins
Secure candidate data within Talos ATS, ensuring compliance with data protection regulations
Conduct comprehensive reporting allowing data-driven hiring decisions
Why is Background Screening Necessary?
Employers benefit from completing thorough, accurate background screening as part of the hiring process. The purpose of background checks varies depending on the job role but helps assess candidate suitability as well as helps to reduce organizational risk.
The level of vetting will vary between roles. Those working with children, in care, or as medical professionals are subject to more thorough checks, such as Enhanced DBS checks. Failing to conduct the necessary Right to Work checks for a role could see employers face fines of up to £20,000.
Our Certn Credence integration with Talos ATS streamlines the background screening process for employers, ensures that employers remain compliant, conduct the correct checks, and ensures candidate data security by remaining in the award-winning Talos ATS.
Increased Compliance
Ensure your compliance with legal and industry background check requirements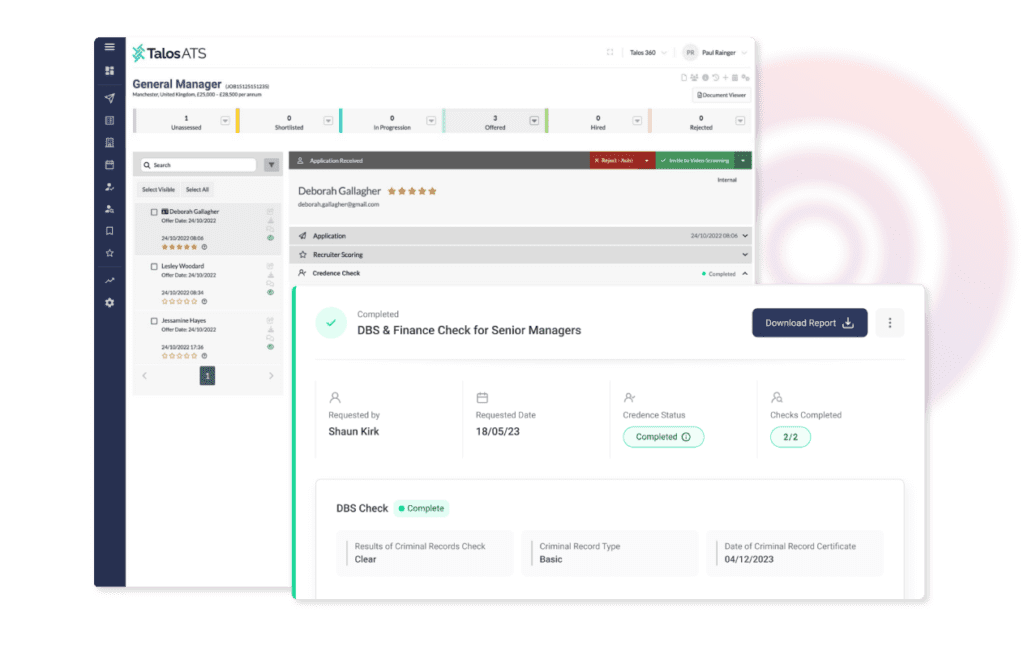 Time Saving
Reduce the amount of admin time taken to process background checks manually
Easy Reporting
Get easy access to one centralized HR portal that contains all the background check information you need
Easy Background Checks

Talos ATS is integrated with Certn Credence, the world leading background screening specialist with over 29+ years of regulatory compliance. This means that you get the reassurance that you need about your new hires, without having to login to another piece of software, or risk any mistakes with manually processed background checks.
Background Checks Include
Criminal Record Checks
Standard DBS
Enhanced DBS
Employment Verification
Credit History Checks
Education Checks
FCA Checks
Directorship Checks
Social Media Checks
Plus much more
Streamlined Process
Seamless integration between Credence and Talos ATS gives you access to 20+ types of background checks, simply select your package and request all the checks required with one click.
Customizable, automated notifications and reminders from Certn Credence alert you to the progress of your requests, so you don't need to waste any unnecessary time on admin. All data is safely stored and centralized, making it easy to review.
How it works
You can request, receive and review your background checks directly in the Talos ATS. Background screening requests are sent immediately to Certn Credence to process without the need to login to any additional software.
You can see the live status of these checks in your ATS, ensuring transparency and visibility throughout the entire screening process. You can also download documentation, which is securely stored within the Talos ATS.
About Certn Credence
Certn Credence is an international provider of employee checks for enterprise, mid-market, and small businesses looking to hire the best talent. Certn Credence utilize the latest technology to supply compliant background screening checks to help employers and recruiters making faster hiring decisions based on accurate insights. For 29+ years, Credence Background Screening has been recognised as expert background screening specialists.
Our industry sector experts help pioneer the development of industry screening standards and continue to share their knowledge with trade organisations and government standards committees such as the Professional Background Screening Association (PBSA), Institute of Professional Investigators, Criminal Records Trade Body (CRTB) and parliamentary Digital Right to Work Scheme committee. Certn are revolutionizing background screening with the easiest-to-use online platform, dedicated customer support, and fast and compliant results from global databases. Trusted by 10,000+ clients, Certn Credence helps businesses hire faster, manage risk and deliver stand out user experiences.
PR Contact
Christine Modla-Thomas
Certn EMEA Product Marketing Manager
[email protected]